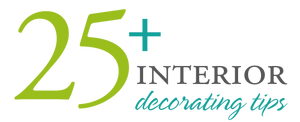 1 invest in neutrals. Choose neutral colours for larger furniture pieces, experiment with colour trends on accessories.
2 test it first! Before selecting a paint color, paint a square of sample color directly on the wall or on a board that is at least 2' square - view at different times of the day and night.
3 layer on texture. When decorating in an all-white colour scheme use a variety of texture for warmth and interest.
4 hang it up. Hang a light fixture 30"-34" above a tabletop.
5 play with scale. Use an oversized mirror to open up a dining room or small space.
6 add personal items. Give your rooms a personal touch by including vintage or family heirloom pieces.
7 mix and match. You can mix and match patterns in a space as long as you select patterns and solids that share one common color.
8 center your art. When hanging artwork the centre of your picture should be approximately 57"- 60" from the floor.
9 create atmosphere. Use dimmer switches in every room to create mood and atmosphere.
10 apply rule of three. Group your accessories in threes. Place large, medium and small objects together on a mantel or tabletop for best impact.